The Covid-19 lockdowns have had us living in the unavailable situation of being prisoners in our homes, people have been starring at walls. With restrictions being gradually lifted and borders opening up now it is the perfect time to have a change of scenery and try a new travelling experience. 
Como (aka Lario) Parts of the 2006 Bond movie Casino Royale were filmed here and many of the fancy lakeside hotels have a 007 price tag.
An hour north of Milan is the picturesque Lake Como, this is the most glamorous of Italy's lakes and is the most 'James Bond' of the Italian lakes, where shiny Ferraris weave through narrow lakeside towns and classical villas take on a whole new level of opulence, enclosed by the snow-capped Alps with the picture-perfect waterside village. Milanese take day trips for a breath of fresh air while international A list visitors have long been drawn by the grand lakefront hotels and the elegant mahogany Riva boats that zip along the lake's deep blue waters. Gilts and glamour aside, Lake Como is rich in culture, with opulent villas (like the ones here lettingslakecomo.com) that once belonged to artists, writers, opera singers and explorers.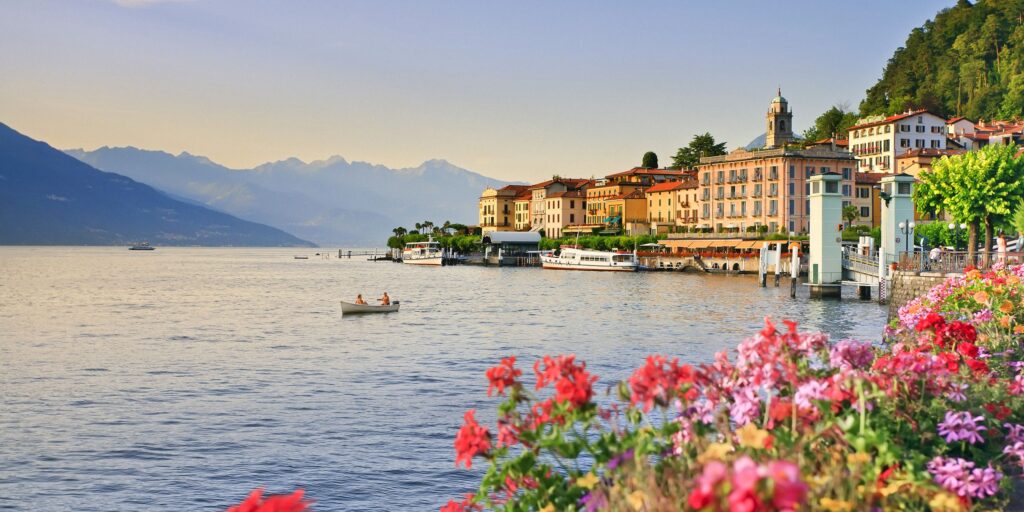 1- Get the most of it for the value of your money
This is the perfect time to snap up some really good deals as the tourism sector is awash with early bird deals. After having no income for close to 6 months, this tourism destination is waking up from the Covid-19 slumber & to attract tourists to make up for the downtime, there are mouth-watering discounts available. You do not need to bring riches to this popular destination. As a matter of fact, one can enjoy an affordable visit if you arrive before the tourism industry wakes. Autumn is an excellent season for visiting Lake Como because accommodations tend to be more available amid much smaller crowds. Arriving outside of the warm months defiantly makes Lake Como a great budget trip escape when exploring Central Europe.
2- Not a mass tourist destination
Summer's now coming to an end and the large crowds associated that time of year tend to dissipate. Regardless of the cooler temperatures, there are many plus points for visiting Lake Como once the throng of crowds has gone. Lake Como is popular with tourists in the summer, thus slowing down the normal road traffic. It is an absolute pleasure driving along the curvy roads of Lake Como looking out to the lake during the offseason. With fewer people, the setting is set to provide for the perfect ambience for whiling away a scenic afternoon, without worrying about being overwhelmed by the crowds, or the midday sun.
3- Entrepreneurs and freelancers heaven
Bloggers, entrepreneurs & freelancers looking for a relaxed place to work should defiantly give Lake Como a try. Once the crowds are gone, it is so peaceful and serene. People in Italy have a warm and hospitable culture, so it makes for a nice surprise for foreigners. It is the best of both worlds, welcoming people and reasonable living costs
4- Amazing food culture
As with the majority of Italian regions, Lake Como won't disappoint when it comes to local foods and delicacies. Visitors should sample local cheeses such as Bettelmatt and Formagella of Luino, they are gorgeous when accompanied with the local honey. The cured meats, raw ham and cured goat's leg are to die for. Lake Como is well-known for Michelin starred restaurants, and many of the restaurants specialize in rustic cooking. Try perch caught fresh from the lake, wild boar from the surrounding hills, and the frittell di mele — divine apple fritters that are unique to the area.
Would it be a complete trip to Italy without sampling the wine? For the full Lake Como wine experience, we recommend one to the private guided wine tours. Visitors will be given an authentic experience to feel like a local fully immersed in the culture and people's habits. This will feel like going out with friends for a true Italian Aperitivo dinner. This won't be a stressful walking tour, but a relaxing visit to the walled city while stopping sampling wines here and there. Visitors will also be given suggestions about local food traditions.
5- Wellness and relaxation
Away from the hustle and bustle of the tourist hotspots, it's still easy to find a calm spot amongst the crowds. The Tremezzo and the gardens at Villa Carlotta, are beautiful places where one will find 14 acres of Japanese maples, palm trees and orchids for a truly relaxing experience. For a women's getaway, this is the place you can go for just that breather. After being cooped up at home for so long, if you are mum and you need to just get away from homeschooling, trying to keep the sanity in the home, this is the place to get that sanity back. A peaceful setting where you can regroup and look forward to the next stage in your life, this is what you will find at Lake Como. It is also perfect for a girl's trip, where you can be silly, laugh and have a good time relaxing without a care in the world.
6- Real Romance
Maybe due to Covid-19, you couldn't go for your honeymoon or romantic getaway, well you are in luck because romance is enhanced during the autumn into winter season on Lake Como. Hotels and restaurants pay more attention to their guests and their needs. Since there will defiantly be tourists' that romantic dinner you had planned will most likely be the romantic dinner you planned. To top it off, a boat cruise followed by dinner at a local farm-stay could further enhance the romantic theme.
7- Attractions, Hiking & biking
Lake Como is great for exploration, there are forested mountains that provide for excellent hiking opportunities and memorable views adorn with lush gardens ablaze with flowers. Be sure to also enjoy the lake, one must explore the lake by boat – most of the sights are best seen from the water.
Mountain ranges of this area have trails, ancient merchant roads and paths, suitable for all levels of ability. Bike rides with electrically assisted pedalling take you through wine country, with strategic stops along the way. This is an ideal place for adrenalin junkies as you can enjoy windsurfing, go water-skiing or even head to the mountains for some canyoning or hiking
With its sparkling lake and picturesque setting amongst towering mountains and forest-covered hills, Lake Como is breathtakingly beautiful and makes for a fantastic holiday destination. Offering up much more than just spectacular scenery, it is full of rich history and culture, as well as holding fascinating historical sights and a wealth of fun outdoor activities to indulge the expectations of tourists alike.